Christmas is less than two weeks away and we're getting in the Christmas spirit here at View From The Ninian. Scott Johnson is rocking his Christmas jumpers, Ben James has adopted his antlers and I've got Sol Bamba's Christmas jingle on repeat.
We're not just celebrating, though, we're in the business of giving at VFTN and that's why we've put together the ultimate Christmas gift guide for Cardiff City fans.
So, without further adieu, here are our top picks this Christmas*.
Cardiff City clothing
Replica home 18/19 home shirt – £49.99
Cardiff are smashing it in the Premier League so far this season and we think we should all be wearing blue with pride this Christmas. Where better to start than the club's official home shirt.
It may cost almost 50 quid, but it's a classic and we have no doubt it'll still look good in five years time.
A retro City shirt – £39.00
It's the kit we all love. It's the kit we'd all love to see replicated. Why not give the gift of the past this Christmas with a retro 1975-77 shirt from Toffs?
Charlie Charlie Foxtrot Charlie Men's T-Shirt – £14.99 – £16.99
We really like this t-shirt as its a bit of a subtle nod to the club we all love. At first, you don't really notice the affiliation with Cardiff, but once you spot the 'CCFC' – it's brilliant.
Cardiff City prints
Personalised kit print – £29.99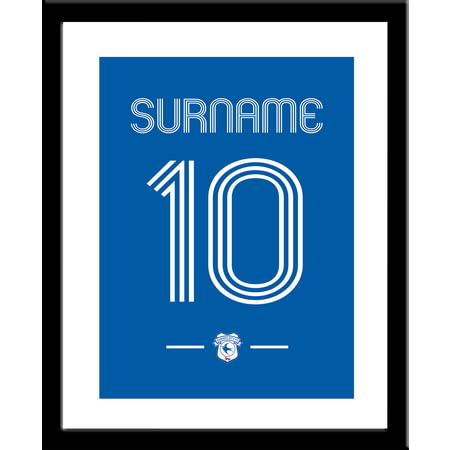 This is perfect for any young fan dreaming of playing for their hometown club – or any big kid who never let go of that dream! Get the print personalised with the name and number of your choice.
Cardiff City Stadium Co-ordinates Poster – £18+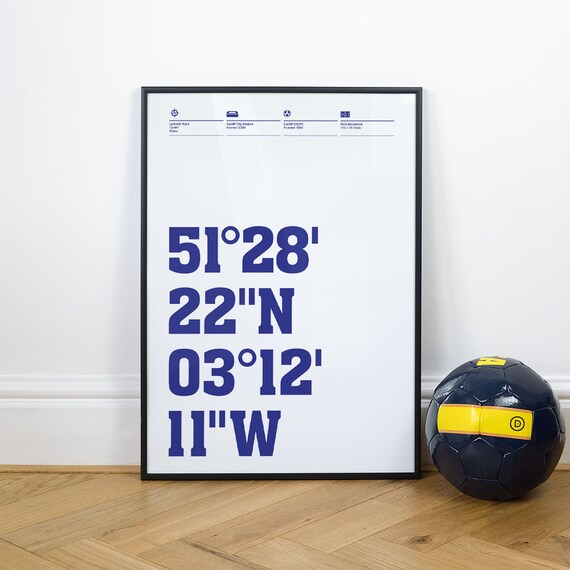 We absolutely love this from the guys over at Dinkit. This poster maps the co-ordinates of the Cardiff City Stadium in a real clean and classic way. It's beautiful.
Personalised Cardiff City legends print – £22.99+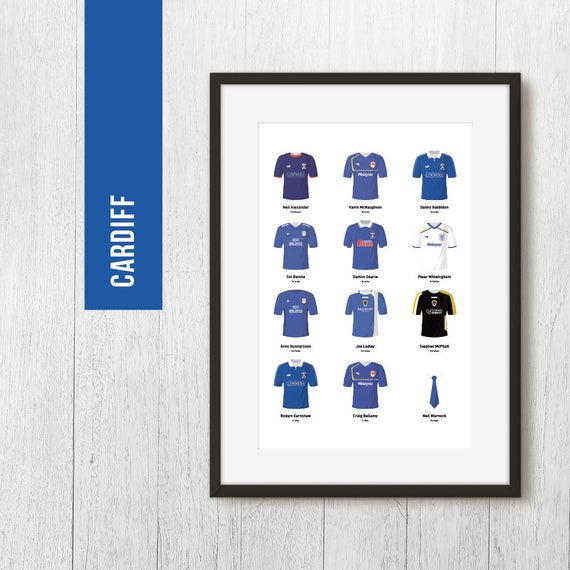 Celebrate the legends of yesteryear with this beautiful print, which you can personalise! The seller lets you choose the 11 legendary players and a manager to make your ultimate Cardiff legends team.
Ninian Park print – £15.00+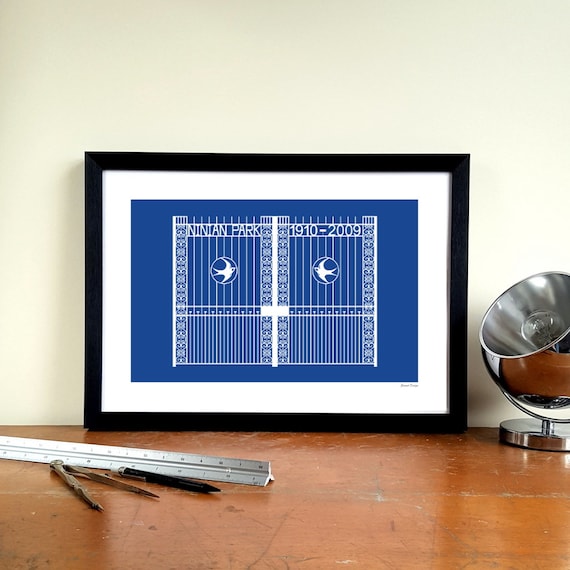 As great as the Cardiff City Stadium is, Ninian Park will always be the home of football for so many of us. If your loved one is one of those people, why not treat them with this beautifully illustrated print of the Ninian Park gates?
Cardiff City gifts
Cardiff City Football Club Official 2019 Wall Calendar – £9.99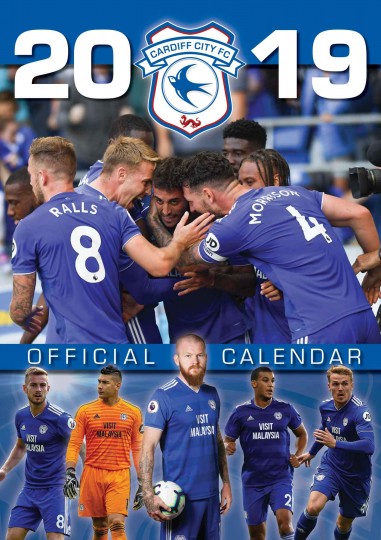 Make sure your loved one starts 2019 in style with the official Cardiff City wall calendar. Gary Madine even makes an appearance, which is more than we can say about on the pitch!
Cardiff City Mug Shirt History Football Mug – £9.95
From the 1975 classic to 2002's rarely seen orange number, this mug captures Cardiff's shirt history. It's the perfect gift for a loved one to take into their office with pride.
Bluebirds Reunited by Aled Blake – £13.99
This is one of our favourite City books from former journalist and club media staff, Aled Blake. Blake perfectly captures the astonishing tale of the fight for the heart of the football club and the unlikely messiah who delivered a dream and united a city. A must buy this Christmas.
Bluebird Heaven by Jamie Kemble – £10.32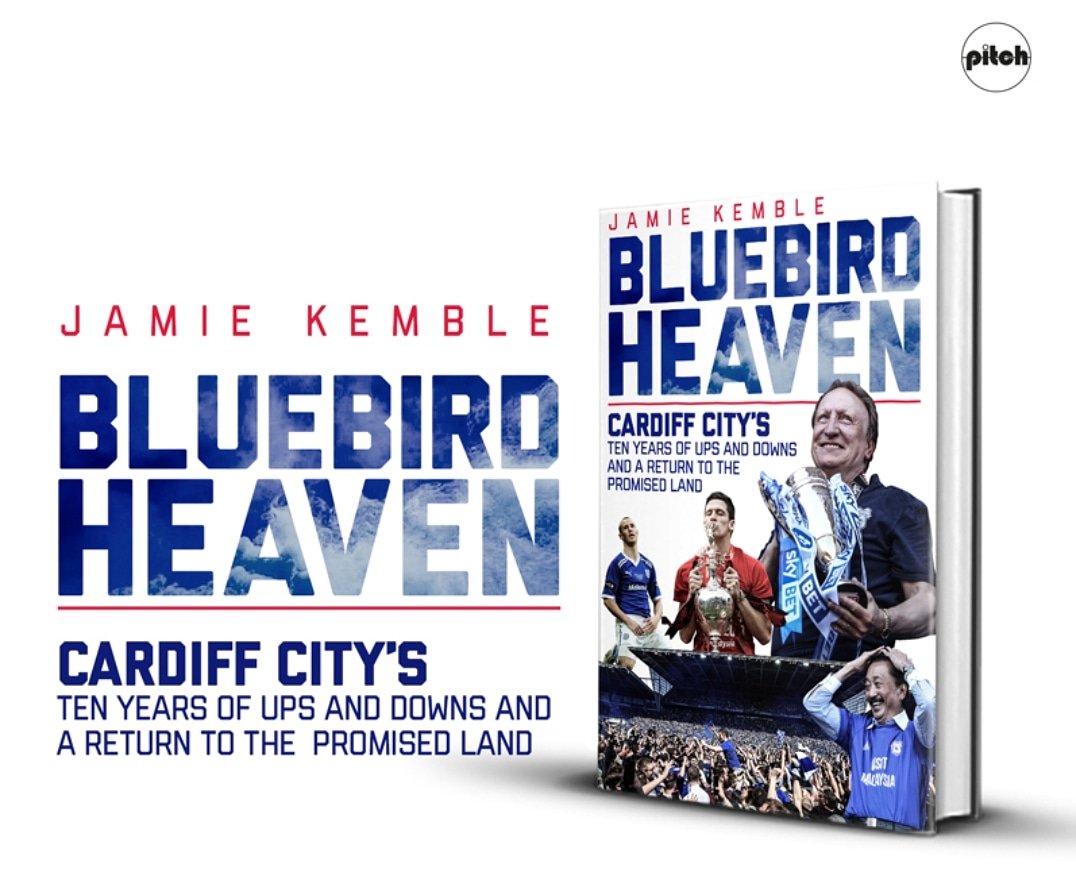 We recently featured an extract from Jamie's new book, charting ten years of ups and downs for Cardiff City. It sure to be a must read for City fans.
Cardiff City: Rebranded: Bluebirds and Red Dragons by Scott Johnson
Where else could we end other than VFTN's very own Scott Johnson. Scott's book on the club's rebrand is hard-hitting and an eye opener for City fans. We recently gave away a copy. Missed it? Make sure you buy it this Christmas.
*Please note we have not been paid to include any of these items and all are included as genuine, authentic recommendations.